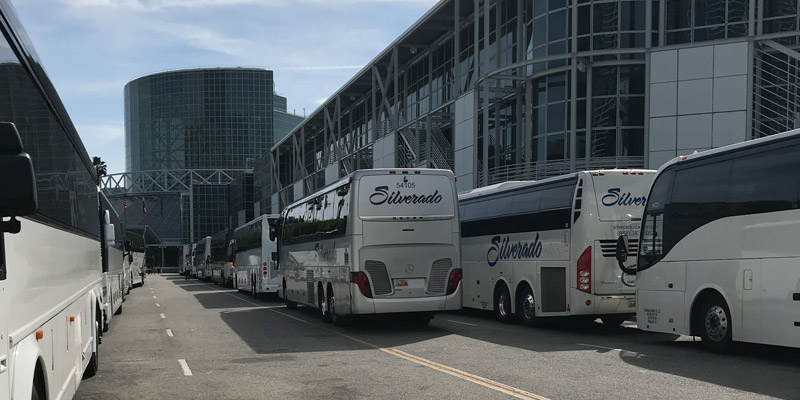 Comic-Con International is one of San Diego's most attended events.
Thousands of fantasy fans from around the globe descend upon the picturesque city – and once they arrive, SEAT Planners steps in to coordinate and manage flawless transportation.
During five days this past summer, SEAT moved 55,386 science fiction lovers, comic book collectors and superhero enthusiasts. This feat took 153 buses with 1,881 bus hours, not to mention an enormous amount of pre-event planning. Preparation for Comic-Con begins six months before the event every year.
To launch the most efficient ground transportation program possible, SEAT met with the San Diego Convention Center regularly before the event, as well as coordinated with Comic-Con staff, San Diego Police, ACE Parking and many others to guarantee fans had a good time and experienced hassle-free movement to and from the Convention Center.
The hassle-free aspects included placing helpful signage at all major traffic arrival streets days before the Con began, giving commuters and residents advance warning and raising awareness about better routes and potential delays. SEAT's preparations also included use of an extensive traffic plan, providing staff at each entrance of the Center to guide guests and report challenges before they became problems.
"The first year we transported Comic-Con fans was 1991 and it was much less complicated," says Steve Weathers, SEAT's president. "We moved a mere 16,607 people then. This year, we saw an increase from that original number of about 330 percent. Those kind of numbers require every step of the process to run seamlessly into the next."
The number of transported fans is not the only element that has changed in the last 17 years. When Comic-Con moved into the San Diego Convention Center, the surrounding area was made up of warehouses and empty lots. Redevelopment has changed that and now 30 police traffic controllers are required to manage intersections near the Center. SEAT now acts as the lead agency to bring together involved entities such as MTS San Diego Trolley, CalTrans, Gaslamp Quarter Association and the City of San Diego. SEAT oversaw the flow of cars and people to avoid gridlock that would detract from the success of the convention as well as inconvenience downtown residents and businesses.
SEAT provided bus operation two hours before exhibits opened and programs began and run the buses until 3 a.m. the next morning. Buses were regularly switched out for refueling and cleaning and bus drivers were relieved to keep shifts to a reasonable length of time. Buses served 10,000 parking spaces, all of downtown San Diego and 22 hotels. Wheelchair lift-equipped vehicles were available according to need, as well.
"We look forward to transporting Comic-Con attendees all year because we always have such a good time with them," says Pat Weathers, vice president of SEAT Planners. "Next year is the 40th Comic-Con and transportation arrangements have already begun so that our guests enjoy even better service next time they're in town."